Thank you for your interest in curling for your group/corporate outing!  Curling is a fun team-building activity that is welcoming to all ages and abilities.  Groups have really enjoyed the experience and we're sure yours will as well!
Schedule Time and Days
Group/corporate events may be scheduled Monday-Friday during these time blocks: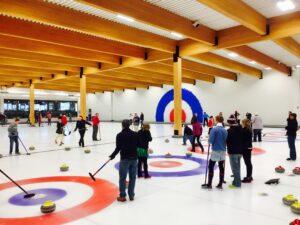 12:00-2:30pm (Mon, Tue, Wed, Thurs, Fri)
   12:30-3:00pm (Monday, Friday)
   1:00-3:30pm (Monday, Friday)  
We cannot book in the evenings due to league play.  Saturday rental times, rates, and policies are being put in place.  Due to staffing and limited ice, groups are encouraged to book M-F for corporate rentals.
The Player's Lounge can also be reserved for catered meal service by the Crooked Pint Ale House.  This room seats 40 and can be used for meeting space before or after your curling event for $50/hr.  The room has a large TV available for presentations.
Group/Corporate Event Fees
$40/person. A $400 minimum is required to book an event.  This covers the cost of your first ten participants. This deposit is non-refundable and collected at the time of booking.  Additional participants can be paid in advance or on the day of your event.  You will be financially responsible for the number of participants you tell us will be there at the time of booking.  This is due to staffing and ice booking.  If your numbers change, please communicate this to us at least 10 days out so we can adjust your contract and staff accordingly.
Group size can range from 8 to 48 participants.  Fees include ice rental, instruction, and equipment use.  Instructors will be with you the entire time.  We try to book one instructor per sheet of ice.  So don't worry about not having curling experience… most groups have none!  We are here to help you learn and have fun!
Dress for Your Curling Event
Bring along a clean pair of shoes. Athletic shoes are a good choice. Carry them in, do not wear them in. It is extremely important to keep the ice clean.

Dress comfortably. Jeans are difficult – wear loose fitting clothes as you will be in lunge positions.

The curling arena is about 40F. Consider a winter hat, gloves and a warm jacket or hoodie.
Want more Curling?   We have a Corporate League!
Contact the Curling Center at (952) 227-2475 or curlingcenter@chaskamn.com
A 300 seat Event Center is also available to rent.  Catering options are available.